About us
About The Mahadev Metal & Alloys
Mahadev Metal & Alloys is one of the leading Manufacturing houses for High Tensile, ASTM, and Stainless Steel Fasteners.
A well-trained & experienced team at MMA are catering fasteners as per the customer requirements. 
We are Serving throughout the Globe to Various Petrochemical, Pharmaceutical Industries, Refineries, Power Projects (Thermal, Hydel & Nuclear), Water Treatment Plants, Space Research Organization, Engineering Construction Companies, Steel Plants,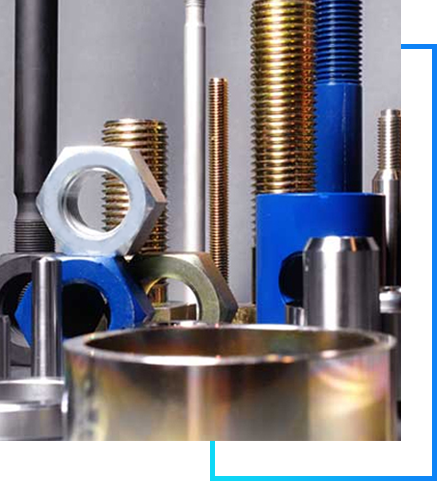 Sugar Industry, Food Industry, Dairy, Textile Industry, Shipping Industry, Chemical Industry, Cement Plants, Pump & Valve Manufacturers, Wind Mill Manufacturers, Material Handling Equipments Manufacturers & many Other Sectors In The Indian subcontinent for more than a decade.
Mahadev Metal & Alloys
Our Vendor Base
We procure the best-suited inventory from those vendors who serve an optimal combination of quality and integrity and work with compliance to the rigid industrial standards. We are proud of our alliance with the industry's established manufacturers and vendors. Be it the product design, technical specialization, or the improved features of the products, our associated vendors are simply outstanding in every aspect.
Mahadev Metal & Alloys
Why Us
We work on various aspects of trading and retailing to win the trust of our reputed global clientele. We possess the experience of more than 13 years in the industry. Our team members are trained and experienced to handle the immense complexities of trading with ease. Moreover, our adherence to stringent quality standards and ensured cost-effectiveness is giving our clients a competitive edge over others.
Mahadev Metal & Alloys
Our Team
We have a highly experienced team blessed with rick skills set and diverse outlook. Every member in our team is strategizing for his passion to add value to the company. We owe our leadership position to the strenuous efforts of product specialists, trading experts, sales and marketing personnel along with dedicated warehouse managers and diligent workforce. Besides, we conduct regular training sessions to empower every member in our team.
The Largest Industrial Mahadev Metal & Alloys Manufacturer in Vadodara and the proud worldwide owner of Mahadev Metal & Alloys is committed to superior quality and prompt delivery at the best possible prices.
Mahadev Metal & Alloys has proactively implemented global strategies to create an Internationally integrated business structure.
With the latest machinery as well as a skilled and learned workforce. It's Mahadev Metal & Alloys meet or exceed International Standards like DIN, ISO, ASTM, IS, BS, etc.
Mahadev Metal & Alloys have expertise not only in standard but also in customized made as per specific project requirements.
Why Us? Our Specialty
Technical: Always a solution provider.
Delivery: Timely deliveries and global service.
Quality: High quality fasteners.
Experienced: Long term experience in Power ,Oil, Gas , Hydro and special fasteners segment.
Team Work: Theme of our success.
Competitive Pricing
Short lead times & highest flexibility.
Get in touch for any kind of help and information.
Our Vision Our Mission Our Values Our Policies
We shall consistently achieve customer satisfaction & grow our business by continually improving;
Our manufacturing processes
The skills of our people and empowering them
Mahadev Metal & Alloys grows with its customers as strategic partners by proving reliability in service consistency and innovative solutions through high efforts at optimum specifications.
To put in best efforts with technical throughput for the satisfaction of clients.
To uphold the profession for its ethical values and norms.
To strive against professional malpractices, for the betterment of the society.
Healthy professionalism.
Sovereignty
We are aware of and bound by our role as decision-makers for our physical environment. As independent consultants, we choose methods, techniques and materials in dialogue with professional partners, but independent of manufacturers' interests.

2. Trustworthiness
With regard to our clients and consultants, our ideas and decisions are well substantiated and documented. Our work is relevant, topical and constructive. We are dedicated to ensuring the best possible psychological and physical conditions at our office.

3. Professionalism
Our work is based on the wish that function, architecture and the construction budget form a synthesis. We quality assure and evaluate our work based on current systems and specialist knowledge within the practice. We engage ourselves actively and constructively - also in one another's work. We strive to increase our effectiveness and productivity through professional development. We are also aware of the importance of synchronizing work and family and recognise the social responsibility of the practice.
Our aim is to consistently manufacture fasteners of optimum quality that enhances customer satisfaction by meeting their requirements including those for prompt delivery.